X-Guide

Port Angeles, WA

At our dental practice in Port Angeles, WA, we have access to the latest in dental technology, like the X-Guide navigation system.

When you get a procedure with us at Turella Oral Surgery, we utilize all the tools available to us for precision and for your comfort.


What is X-Guide?

X-Guide is a dynamic 3D navigation system that surgeons use during dental implant surgeries for safer and more accurate results than ever before.

It displays to the surgeon, in real-time, the location of the drill, its angle, and depth, as well as the path they must follow to place the dental implant exactly where intended.

Essentially, it plots the course for the surgeon to take, and the surgeon ensures they are adhering to it.

The dynamic system is employed to mill final restorations (teeth) and produce temporary teeth using a 3D printer.

Additionally, X-Guide enables patients to have guided surgery on the same day at a lesser cost than conventional guides.


How Does X-Guide Work?

Surgeons use the X-Guide system to plan and carry out dental implant surgery digitally.

X-Guide perfectly works with other current dental implantation technology and serves as a GPS for drills.

Dentists use X-clip technologies to obtain impressions of your jaws before starting your oral surgery. The impression cubes are a bit bigger than your molars and fit perfectly in your mouth. They only take five minutes to mold themselves to the contour of your teeth.

This imaging equipment gives the surgeons a 360-degree anatomical view of your jaw and teeth in addition to offering turn-by-turn guidance throughout surgery and alerting them if the tools are closer to nerves or other sensitive areas.

Contrary to freehand surgery, the ability to control every handpiece movement results in more precise implant placement.

Surgeons utilize the X-clip impressions to take incredibly detailed scans once they are ready.

They employ the 3D scan for virtual implant surgery and digital treatment planning.

Dentists use cutting-edge technologies to personalize your operation and choose the perfect location for your dental implants.

The surgeon will then calibrate the 3D viewer with the X-clip impressions to provide a real-time view of your mouth while you undergo surgery.

The interactive nature of the technology lets them alter and enhance the positioning of the instruments as the process progresses.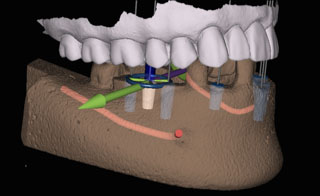 What Is Guided Implant Surgery?

Guided dental implant surgery is a modern approach where dentists use advanced equipment and imaging technologies to "guide" or help them create and install dental implants more quickly, precisely, and reliably.

Because computer-guided implant surgery is much quicker, patients frequently receive their new teeth in only one dental appointment.

Three-dimensional (3D) imaging, computerized tomography (CT) scans, CAD and CAM computer imaging, and digital x-rays are among the technologies frequently employed in computer-guided dental implant surgery.

It entails planning the surgery with computer software utilizing the patient's CT photos.

First, the dentist prepares a personalized surgery treatment plan and takes a CT scan.

Then they use advanced computer technology to fix the dental implant.

Stephen J. Turella, DMD will create models of the crowns that will be inserted using CAD digital design software and 3D imaging technology.

After receiving the models, the dental lab uses CAM software to create the restorations digitally.

The replacement crowns are then attached to the implants.

Lastly, digital x-rays are taken to guarantee that the implants and crowns are positioned correctly and are the appropriate size.

Guided implant surgery is a fast procedure, and the patient spends little time in the dental clinic. The process is also reputed to be accurate and secure.

The dentist creates small incisions that often cause less bleeding and discomfort than would normally be required.

In addition, there won't be much of a bone graft, which entails transferring bone tissue.

The process also helps to avoid bone loss and prevent gum disease that can be caused by missing teeth spaces, where food particles and bacteria can be trapped.


Other Dental Technology at Turella Oral Surgery

There are various technologies used at our office, including 3D printing, 3D cone beam, digital radiography, and 3D imaging


•
3D printing technology is mainly used to create dental crowns and implants. Dental implants and crowns are the two items that 3D printing is most frequently used to make. The procedure results in a final product that looks just like your natural teeth.


•
The prosthetic tooth or crown is meticulously constructed to provide a perfect fit for your smile in terms of shape, size, color, and placement.


•
Dentists can produce the strongest crowns and implants for your dental restoration via reduction printing by using solid blocks of durable ceramic.


•
The 3D cone beam computed technology (CT) is a specialized form of x-ray apparatus that is utilized when the standard facial or dental x-rays are inadequate. In a single scan, it is used to create three-dimensional (3D) images of your soft tissues, bone, teeth, and nerve pathways. The technology is also used in diagnosing TMJ, detecting jaw tumors,reconstructive surgery, and surgical planning for impacted teeth.


•
Digital radiography is the most recent method for taking dental x-rays. Rather than employing x-ray film, this method takes and saves digital photos on a computer using an electronic sensor.

These images can be adjusted or enlarged to get the best diagnostic capability. The use of digital radiography technology gives faster turn-around time and shorter appointments. Also, the patient is exposed to less radiation.
What Are the Benefits of X-Guide?

The X-Guide system increases the surgeon's level of precision and control throughout the whole dental implant procedure.

The treatment is accurate and effective. It makes implant surgery secure as it helps prevent damage to nerves, nearby teeth, the maxillary sinus, and other anatomical issues.

Unlike traditional dental implant surgery, which needs more office visits, more preparation time, and tends to cost more, the X-Guide lets dentists utilize much more accurate photos, which means fewer dental appointments and scans.

Patients don't have to wait for the creation of a surgical guide. With navigated surgery, the procedure can begin right away. In most cases,the process takes only one day.

In addition, the technology system is more comfortable and requires less healing time.

The X-Guide technology lessens the possibility of unsuccessful implants, which necessitate expensive revision surgeries. The procedure also accommodates different surgical positions and takes up less space.
Schedule an Appointment with Your Port Angeles Oral Surgeon Today!

We will use X-Guide and all the latest dental technology to make your experience as professional and comfortable as possible. Call us at (360) 912-8244 to schedule an appointment, or to get answers to any questions you may have.